Suzuki Dealer of the Year 2017
Eastbourne Suzuki have scooped the prestigious Dealer of the Year award, winning the very top spot out of over 156 Suzuki dealers in the whole of the UK.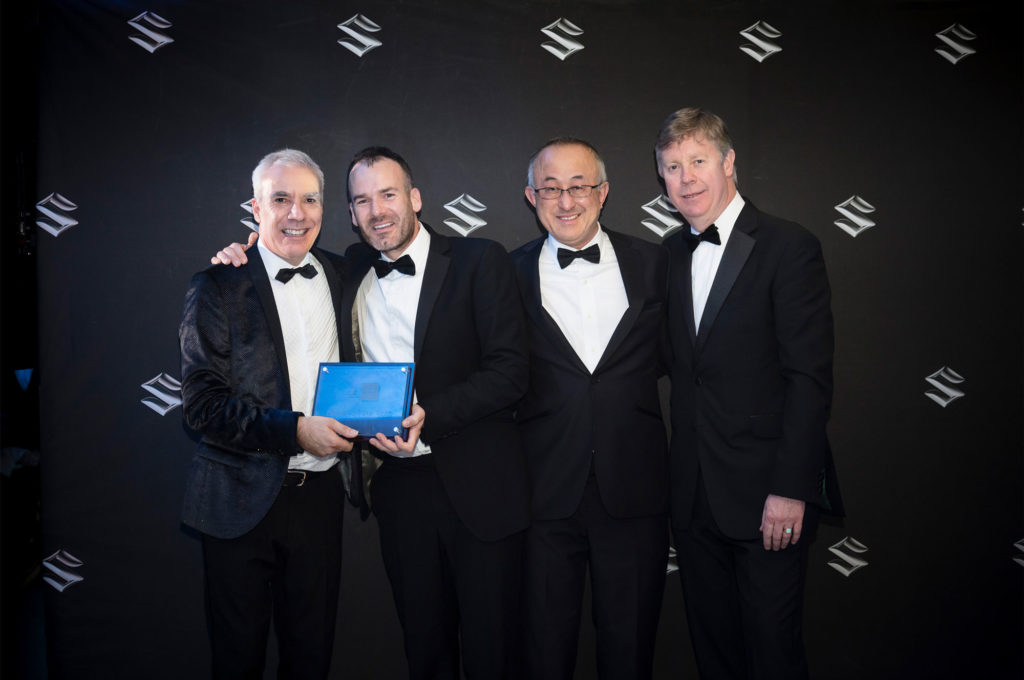 We are very proud to announce that Eastbourne Suzuki have been awarded Suzuki Dealer of the Year 2017!
Eastbourne Suzuki have recently scooped this prestigious award, winning the very top spot out of over 156 Suzuki dealers in the whole of the UK.
A massive thank you to all our valued customers and to our dedicated sales, service and support teams who have all played a part in our success.
What an amazing result!
---
Suzuki GB PLC announced its "Dealers of the Year" at its recent annual conference and black tie event on the Canary Island of Tenerife. The ceremony recognises the achievements, exceptional performance and service delivered by its 158-strong UK dealer network over the past twelve months. During the evening, TV personalities, Ant and Dec, who are at the heart of Suzuki's advertising and social media campaigns, announced each of the winners via video link. The trophies were then handed out by Suzuki GB's Managing Director, Nobuo Suyama, Sales and Marketing Director, Dale Wyatt and Aftersales Director, Denis Houston.
Prior to the awards, all showrooms were evaluated based on seven different criteria which included the percentage of target sales achieved, the finance penetration percentage, the Sales Customer Satisfaction Index (CSI), the Service CSI, the number of parts sold, and the quantity of accessories sold and returned on sales percentage. The figures were then added together on a balanced scorecard to reveal the top dealer in each of the categories which are as follows:
Large Dealer: Eastbourne Suzuki (East Sussex)
Medium Dealer: Hale Common Suzuki (Isle of Wight)
Small Dealer: Progress Suzuki Milton Keynes (Buckinghamshire)
The Dealer of the Year trophy for Customer Experience was presented to Stoneacre Ackworth in Pontefract, Yorkshire.
Furthermore, 14 Suzuki dealers were honoured on the night for their long-standing commitment to Suzuki, with three showrooms commemorating a quarter of a century with the brand:
10 years:
Town & Country Cars (Surrey)
Colin Appleyard Cars (Yorkshire)
Gwyndaf Evans Motors (North Wales)
Leask Motors (Shetland Islands)
Jenkins Suzuki (South Wales)
W J King (Kent)
Autosales Suzuki Cannock (Staffordshire)
15 years:
Stoneacre Hull (Yorkshire)
Belmont Suzuki (Selkirkshire)
20 years:
J & J Motors Swansea (South Wales)
Hilton Suzuki (Hertfordshire)
25 years:
Ludlow Motors (Shropshire)
Pebley Beach (Wiltshire)
SMC Hillingdon (Greater London)
Dale Wyatt, Director of Automobile at Suzuki GB PLC, said: "This year has once again seen some outstanding achievements across the dealer network, and without the hard work and dedication shown by hundreds of people up and down the country who represent Suzuki on a daily basis, we would not be in the strong position that we are in today. We would like to congratulate all of the winners, and their trophies are very well deserved. 2018 is set to be another important year for Suzuki and we look forward to working alongside our dealerships to build our brand presence even further."

Dale Wyatt, Director of Automobile at Suzuki GB PLC