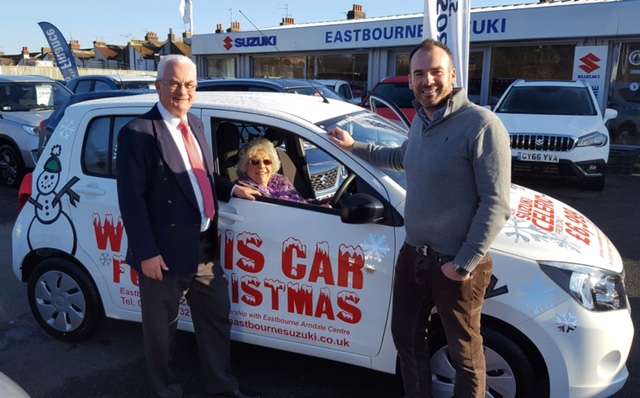 Charity Volunteer is the Win A Car winner
A volunteer for a local charity is the lucky owner of a brand new car after winning a Suzuki Celerio.
Maureen Chester, 74, got lucky when her name was drawn out of the hat in the annual Win A Car charity fundraiser at the Eastbourne Arndale Centre.
Since its launch in 2000, Win a Car has raised over £310,000 for local charities. During November and December volunteers from 48 good causes in Eastbourne staffed the desk at the Centre and sold tickets for just £1, with every penny going directly to the charity.
In addition ten other winners received a £25 Marks & Spencer voucher each.
"This is so exciting for me. On hearing the news I telephoned my family and friends who were all absolutely delighted for me. It's not every day that you win a new car."

Mrs Chester
Mrs Chester has lived in Old Town for 54 years and is a volunteer for Memory Lane in Eastbourne. Memory Lane is a charity providing social activities for people with dementia and their carers to attend together.

"I'm delighted that Maureen has won the car, she is a very deserving winner. I would like to thank everyone who supported the charities by buying a ticket for this year's event."

Manager Bill Plumridge, Eastbourne Arndale Centre
For more information about Memory Lane Eastbourne please call 07800874361.